If you're like me, you love reading (or listening to) lots of books! A great book offers us a glimpse into the vast knowledge and experience of an expert in our field of interest and provides us with a deeper understanding about a topic; and often about ourselves.
If you've met me before, you've probably seen me with headphones glued to my ears. I listen to audio books pretty much everywhere I go, always looking for little nuggets that have the power to transform our thinking and improve our life as a result. Whether you're looking to improve your business skills, delve into personal development or build your emotional intelligence this list of timeless must-reads is for you. So, here's my list of all-time favourite audio books (in no particular order) that I can highly recommed. Enjoy!
5 Insanely Valuable Audiobooks For Guaranteed Business & Personal Growth
I will keep adding to this list over time, so these books are listed in no particular order.
If there's a particular book you think needs to be on this list, feel free to let me know in the comments below.
---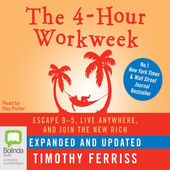 by Timothy Ferriss
This was one of the first ever self-development books I read in my life. It surely has transformed my thinking and my views on life. I must say, for this particular one, I preferred the hard copy book over the audiobook. It's got some great tools and exercises to help you redefine your life and to go outside your comfort zone and push your limits. It's definitely at the top of my personal favourites.
iTunes Description: If your dream is escaping the rat race, high-end world travel, monthly five-figure income with zero management or just living more and working less then this audiobook is the blueprint. Forget your tired, old retirement concepts and throw out that deferred-life plan – there's no need to wait and every reason not to. You can have it all! This audiobook is the compass for a new and revolutionary world. Start living now!
---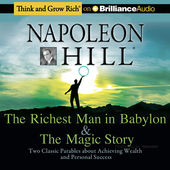 by Napoleon Hill Foundation
Beautifully narrated and creatively brought to life, this audio book is both, informative and entertaining. The information herein will be life-changing if one can grasp the essence of it. I have gifted this book to many people and listen to it again every few months to remind myself about the great lessons in it. Highly recommend this version of the book, as it's easy to listen to in about an hour without losing its essence (the original version of The Richest Man in Babylon goes for a few hours).
iTunes Description: These two parables – one ancient, one modern – contain time-tested secrets that will put you on the road to happiness and prosperity. They offer simple, yet powerful truths about the challenges we all face, and must overcome on the road to success. The Richest Man in Babylon: George Clason's motivational classic story of Arkad, a man of humble origins who became the richest man in Babylon. In dialogue with his fellow citizens he reveals the attitudes and behavior that brought him wealth and happiness. The Magic Story: What turns a loser into a winner? Jay, a down-on-his-luck writer, sees his once struggling friend Sturtevant transformed into a man of supreme confidence and achievement. How did his friend do it?
---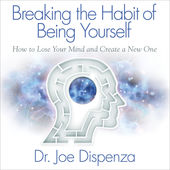 by Dr. Joe Dispenza
During a time where I could barely get out of bed in the morning, this book has helped me to redefine my purpose and given me new motivation. It teaches why we feel certain emotions, the bio-chemical processes behind the reason for why we subconsciously decide to put ourselves into a negative state and how to break this crushing habit of self-sabotage and depression. This is a book I would recommend to everyone, as it deals with the underlying thought processes and bevaviours that determine our emotional state, and ultimately our actions.
iTunes Description: You are not doomed by your genes and hardwired to be a certain way for the rest of your life. A new science is emerging that empowers all human beings to create the reality they choose. In Breaking the Habit of Being Yourself, renowned author, speaker, researcher, and chiropractor Dr. Joe Dispenza combines the fields of quantum physics, neuroscience, brain chemistry, biology, and genetics to show you what is truly possible. Not only will you be given the necessary knowledge to change any aspect of yourself, but you will be taught the step-by-step tools to apply what you learn in order to make measurable changes in any area of your life. Dr. Joe demystifies ancient understandings and bridges the gap between science and spirituality. Through his powerful workshops and lectures, thousands of people in 24 different countries have used these principles to change from the inside out. Once you break the habit of being yourself and truly change your mind, your life will never be the same! This audiobook comes with bonus downloadable content. Please go to www.drjoedispenza.com/bhby to download this material.
---

by Hal Elrod
Hal Elrod's phylosophy is simple. The way you start your morning, determines how your day pans out, and ultimately, your life. This might sound overly simplistic, but this book has the power to transform your life into a miracle. It clearly shows how important it is to proactively design your life and create habits and rituals that support us in our journey to fulfilling our true potential. The Miracle Morning gives you a clear road map, as well as the specific tools to do just that.
iTunes Description: What if you could miraculously wake up tomorrow and any – or every area of your life was transformed? What would be different? Would you be happier? Healthier? More successful? In better shape? Would you have more energy? Less Stress? More Money? Better relationships? Which of your problems would be solved? What if I told you that there is a "not-so-obvious" secret that is guaranteed to transform any – or literally every area of your life, faster than you ever thought possible? What if I told you it would only take 6 minutes a day? Enter The Miracle Morning. What's now being practiced by thousands of people around the world could perhaps be the simplest approach to creating the life you've always wanted. It's been right there in front of us, but this audiobook has finally brought it to life. Are you ready? The next chapter of your life – the most extraordinary life you've ever imagined – is about to begin. You deserve an extraordinary life. It's time to wake up to your full potential.
---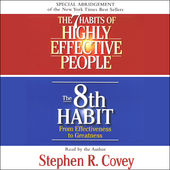 by Stephen R. Covey
Stephen Covey's 7 Habits of Highly Effective People is one of those books that you can read again and again, and each time learn new things you didn't pick up previously.  This book is full of incredible life lessons that are guaranteed to enrich your personal relationships, in business and personal life. I have read this book four times and will be reading it many more. Highly recommended. This version of the book is a condensed one and also includes the sequel by the same author, The 8th Habit.
iTunes Description: This new audio set is a very special abridgement of two of Stephen R. Covey's best-selling business books, The 7 Habits of Highly Effective People and The 8th Habit, read by Dr. Covey himself. We've condensed the content of two entire books into just three hours of audio, but you'll still enjoy Dr. Covey's lessons on powerful personal change and how to incorporate his ideas into your life to fulfill your ultimate potential.
---
https://davidleeschneider.com/wp-content/uploads/2019/01/2.jpg
420
1200
David Lee-Schneider
https://davidleeschneider.com/wp-content/uploads/2018/09/david-lee-schneider-marketing-logo-1.png
David Lee-Schneider
2018-12-27 08:57:52
2019-01-04 20:43:34
5 Audio Books For Business & Personal Growth That Will Change Your Life