No matter the size of your business, I believe we can all agree that having a website, in this day and age, is a must. However, not all websites are created equal. A well designed website will not only look pretty, but help you to capture leads, increase sales, and ultimately allow you to take your business to a whole new level.
So, what makes some websites better than others? The ability to capture leads and predictably turn them into customers. And in order to achieve this, we require three things:
Great Content
The content on your website is a crucial element. Providing your visitors with engaging content that captivates, educates and encourages them to take action is a vital part of any good business website. Make the content about your readers, not your business and ensure the jargon and tone of voice you use are consistent and in line with your brand.
Great Design
The "look and feel" of your website says a lot about your business and leaves a lasting impression. It's also often the first impression someone gets of your business. Lack of consistency and poor layout will result in many visitors leaving your website before you even had a chance to tell them what you are about. Great design means, your customers can easily navigate your website without getting lost (or frustrated). Again, make sure the colours and fonts you use are in line with your branding. A well designed website will help you built trust with potential customers and convert better.
A Great Offer
This might be THE most important part of any website that most business owners (and even web designers) simply overlook. I'm not speaking about your actual product offer or service, but an offer targeted at your IDEAL CUSTOMERS with the aim to collect their email address and/or other relevant data. In marketing, we refer to this as "Lead Magnet". Not everyone who comes across your website for the first time is ready to buy from you. By giving them an opportunity to opt-in for a free download or trial of some sort, you drastically increase your chances of reconnecting with them at a later stage (using email marketing or retargeting ads, for instance) to do business in the future.
The main goal of every good website should be to build your list of leads and aid in converting them into future customers.
3 Websites of Local Small Businesses That Are Killing It
Here are three websites I designed for local Bundaberg businesses, where I have incorporated all three aspects mentioned above. They also make some great examples for when you are ready to give your business' website a face lift.
1. Love Life. Live Yoga.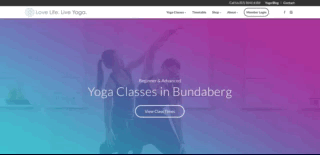 Love Life. Life Yoga. is a local yoga studio in the heart of Bundaberg that has built their following solely using a great online strategy. The website is aesthetically pleasing and easy to navigate. The home page is laid out in a way that you can easily find what your looking for, see upcoming classes, learn about the instructors and read up on the benefits of yoga through featured blog posts. Without being intrusive, the $25 gift card offer makes it easy for new visitors to leave their details to stay connected to the brand before leaving the website.
2. Bundaberg Health Foods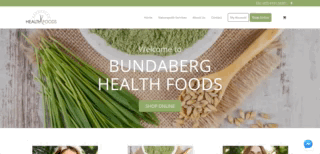 The website of Bundaberg Health Foods conveys a clear message, both in terms of content and branding. Users can easily navigate through the different sections of the website, finding what they are looking for quickly and without getting lost. The website is designed to be completely mobile friendly and displays beautifully across all devices and browsers, including Internet Explorer, Safari, Google Chrome and Firefox. A quirky popup captures visitors' attention and offers them a $10 health food voucher in return for their email address – a fast way to build a loyal following.
3. Holistic Chinese Massage Therapy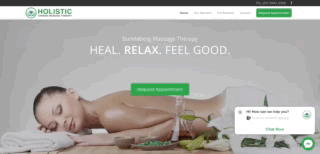 One of the biggest mistakes most business owners make is that they ask for the sale to early. The website of Holistic Chinese Massage Therapy in Bundaberg is designed to educate visitors and offer Bundaberg locals a massage voucher as an incentive to trial the service. I have found that this strategy combined with a good follow-up email sequence can consistently deliver conversion rates of 15%-30%, depending on the nature of the business.
If you would like help with the development and implementation of a sound marketing strategy for your business, let's have a chat to see if I might be able to assist you.
In my 90-Day Marketing Transformation, I will personally work with you 1-on-1 to to get you the results you are looking for. However, there's a limited number of clients I can take on each quarter. Click here to learn more about the program and how to apply.
To your success,

https://davidleeschneider.com/wp-content/uploads/2018/10/small-business-website-design-bundaberg.jpg
420
1200
David Lee-Schneider
https://davidleeschneider.com/wp-content/uploads/2018/09/david-lee-schneider-marketing-logo-1.png
David Lee-Schneider
2018-10-02 03:08:08
2018-10-02 03:33:38
3 Stunning Examples of Small Business Websites Designed For BIG Impact